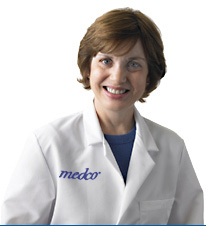 Beverly Caskey R.Ph.,
Diabetes Pharmacist
"Do you know the A, B, Cs of diabetes management?"
If you're one of the 20.8 million* Americans who've been diagnosed with diabetes, it's important to remember how these ABCs can help you-and your doctor-manage your condition.
A (A1C test)
Want to know how effective your diabetes treatment has been over the past few months? There's a test that can tell you. The A1C test shows your doctor how well your blood glucose has been controlled for the past 3 months. Because the test looks back over a large span of time, your doctor is able to determine whether your treatment is working for you as planned.
If your A1C test results aren't satisfactory, your doctor may make changes in your treatment. These can include changes in your diet, exercise program, and medication.
B (Blood Pressure) and C (Cholesterol)
If you have diabetes, you may also have high blood pressure and high cholesterol. There are many effective treatments for those conditions, as well as diabetes. Getting treatment for these conditions can lower your risk of heart attack or stroke-which are more likely to happen in people who have diabetes. However, someone who has all three conditions can easily end up taking many medications. So be alert to the possible interactions that those medications can have.
Specialized care from specialist pharmacists
Medco diabetes pharmacists (like me) have expertise in the use of the medications that people with this condition need. And, because we have the latest information about which medications have been dispensed to you, we get the big picture. If you fill your prescriptions with Medco By Mail and we detect that the medications you've been prescribed might have harmful interactions, we'll alert you and your doctor. We may also suggest ways to make your medications more affordable. So if you have diabetes, rest assured that we're looking out for you.
*Source: American Diabetes Association® website, www.diabetes.org/risk-test.jsp