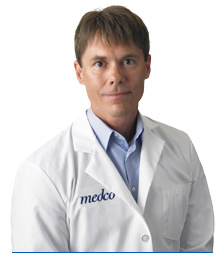 Ron Erkens R.Ph.,
Asthma Pharmacist
"Make sure you know your asthma triggers."
What makes you cough, wheeze, and gasp
Do you know your asthma triggers? If you don't, try to remember where you were and what you were doing when your attacks occurred. Were you in a smoky environment, or petting a cat, or mowing the lawn, or exercising vigorously? The more of your asthma triggers that you avoid, the more you can help to prevent an asthma attack.
Rescue vs. controller medications
Even if you do your best to avoid your triggers, it's still possible to have an asthma attack. That's why your doctor may have prescribed medications-and why you should use them as directed.

However, it's important to know the difference between rescue and controller medications. One of the most common mistakes people make is confusing them. Controller medications are formulated to help prevent asthma attacks. When taken as directed by a doctor, these medications go a long way toward helping to reduce the risk of asthma attacks. Rescue medications are fast-acting inhalers that are used during an attack. In many cases, they can bring near-instant relief. Make sure you take your controller medication every day to help PREVENT an attack-and have your rescue medication handy DURING an attack. If your pharmacy benefit is managed by Medco, you can always call a pulmonary pharmacist if you have questions.
Develop a care plan
There may be times when your asthma just seems to get worse-even when you've had it under control. If your attacks start happening more often, without any reason you can think of, it's best to be prepared. Talk to your doctor about creating a care plan in advance. A care plan is a list of several things that you should do when your asthma gets worse, including a change in your normal preventative routine. Your care plan could include calling your doctor for special instructions, increasing the dosage of your controller medication, and increasing the dosage of your rescue medication. It may also involve taking an antibiotic or oral steroid. A good care plan can help prevent a trip to the emergency room, so work out the details with your doctor. If your pharmacy benefit is managed by Medco, an asthma pharmacist can work with you and your doctor to help make sure you're getting the most effective treatment possible.